A New Design for the Capitol Development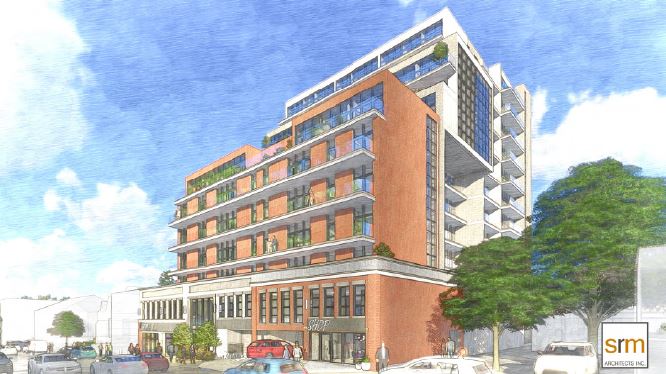 Earlier this month, the City received a new design proposal for the Capitol condominium development which, if approved, would be built on the site of the former Capitol theatre downtown. Just over a year ago the Local Planning Appeal Tribunal (LPAT) turned down a 16 storey version of the Capitol condo ruling that the proposed building was too big and too tall. Now the proponents of the project have come forward with a smaller and shorter version that would be 12 storeys in height.
The original 16 storey proposal was hotly debated for months and both the community and City Council were divided on whether it was the right move for the downtown. What I most appreciate about this design is the attempt to find a compromise on one of the more divisive political issues in Kingston in recent memory. With most of the housing growth now occurring in the west end and east ends of the City, it's incredibly important we get new housing built in the City's core in order to sustain local businesses. At the same time, I appreciate that we need to preserve the wonderful heritage atmosphere of our historic downtown. I'm hopeful that this new proposal will be approved and built, and that we can welcome more residents into the City's core.
This design will require Council approval and before we reach a decision point, I look forward to hearing what people think of the updated proposal. There will be a public meeting held at City Hall on February 20th and I encourage residents to get involved and make their voice heard on this important issue!