Emerging Vision: Kingston Penitentiary & Portsmouth Olympic Harbour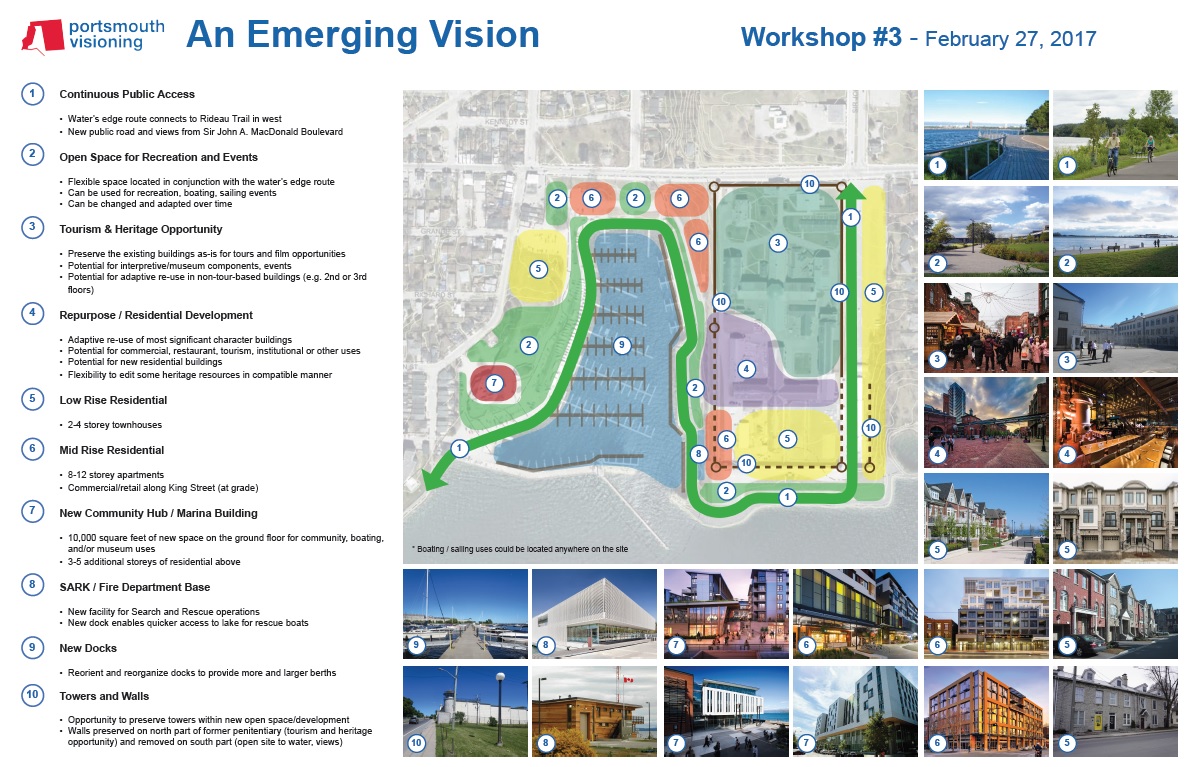 It's an exciting time for the visioning process for Kingston Penitentiary and Portsmouth Olympic Harbour. Through the work of the visioning exercise a singular vision for the redevelopment of this incredible piece of Kingston waterfront has emerged.
The visioning exercise, launched in May 2016, is led by Canada Lands in partnership with the City of Kingston to create a redevelopment plan that will promote tourism, public access to the waterfront and renewal of the harbour area. Over the past year more than 1,000 Kingstionians have provided their ideas and feedback on important elements of the future site including green space, the marina, roads, trails, parking, as well as building locations and heights.
What has emerged is a concept featuring;
tourism opportunities through the preservation of the towers, some existing buildings and some sections of the penitentiary walls

continuous public access along the waterfront

open space for recreation and events

adaptive re-use of buildings for commercial, residential and restaurant use

new community hub and marina building to replace the existing Portsmouth Olympic Harbour

new docks and facilities for the Fire Department and Search and Rescue operations

the addition of a mix of low and mid-rise residential buildings
Over the next couple of months this design concept will be further refined before a final design vision is presented to the public in May and then to City Council for formal endorsement. After that, the work can begin to implement this exciting new redevelopment of this landmark Kingston waterfront property.
For more information on the visioning process visit the City's website at www.cityofkingston.ca/city-hall/projects-construction/kingston-pen