Gearing up for the Mayor's Innovation Challenge, Now with Twice the Number of Internships!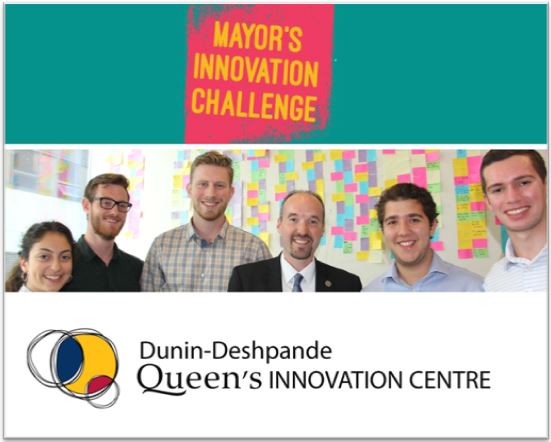 The inaugural Mayor's Innovation Challenge is just a couple weeks away, and it's really exciting to see momentum grow as we approach the final competition. For those who haven't heard about it yet, the Mayor's Innovation Challenge is a pitch competition in partnership with Queen's University, St. Lawrence College and Royal Military College, to see which team of post-secondary students in Kingston can come up with the best, most creative and cost-effective solution to one of three challenges the city is currently facing. As a city we're looking for the best idea to enhance creative public spaces in underutilized areas of Kingston, to strengthen active transportation networks, or make the city more youth friendly, and all ideas must be possible to implement within a budget of $10 000.
Now, thanks to an unprecedented partnership with the Dunin-Deshpande Queen's Innovation Centre, there will be TWO prizes to offer! One team of students will be awarded paid internships with the City of Kingston to implement their proposed solution this coming summer, while a second team will be awarded a paid internship through the Queen's Innovation Centre Summer Initiative (QICSI), a leading entrepreneurship program geared to helping students turn ideas into successful new businesses.
This innovation challenge has attracted a lot of attention to date, and it's been exciting to see the level of interest across all three post-secondary institutions, as many students have come out to workshops to learn how to put forward a great proposal. It's also been great to see so much interest across the community, including a $10,000 sponsorship from Bell Canada.
Just a reminder to all interested post-secondary students in Kingston that proposals are due next Tuesday, February 20. We will then review all of the submissions and the finalists will be invited to pitch their ideas to myself, a representative from Bell and senior city staff on Friday, March 2. I'm looking forward to seeing some great ideas, and harnessing the creative power of young people in our community!