Kingston's Rental Vacancy Rate Moving in the Right Direction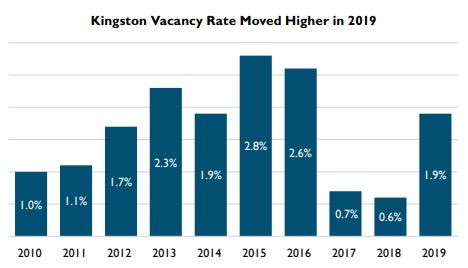 This week we learned that Kingston's rental vacancy rate has risen to 1.9%. That's a big improvement from a year ago when we had the lowest rental vacancy rate in the province at 0.6%. To help illustrate the difference between these numbers, last year there were only 6 vacant units for every 1000 rental apartment units in the city, but now there are 19 vacant units for every 1000 available. That is definitely good news, but the vacancy rate is still too low. A 3% vacancy rate is considered healthy which means we still have a lot of work to do on housing front.
The updated vacancy rate comes from a report from the Canada Housing and Mortgage Corporation (CMHC) and it provides some other important insights on the housing situation in Kingston. First, we've seen a big increase in average rents across the city over the last year. That's the problem when you have a housing crunch. When the demand for housing is greater than the supply, it causes rents (and housing prices as a whole) to rise. That's why building more housing is so important to address affordability. Second, the CMHC report notes that virtually all of the growth in new housing has been in the west end and east end of Kingston. It's very important that new housing is spread across all areas of the city, and particularly in the downtown core. We also need more housing options for seniors, students, young families and affordable housing for those who cannot afford to pay market rent.
As mayor my goal is to see us achieve a 3% vacancy rate, but also maintain a healthy vacancy rate in the long-term. That is one of the key objectives of the Mayor's Task Force on Housing which will be releasing its report very soon. I look forward to hearing more about new strategies and approaches we can implement to ensure consistent and healthy housing construction as Kingston continues to grow.