Proposal for New Housing and Redevelopment of the Frontenac Mall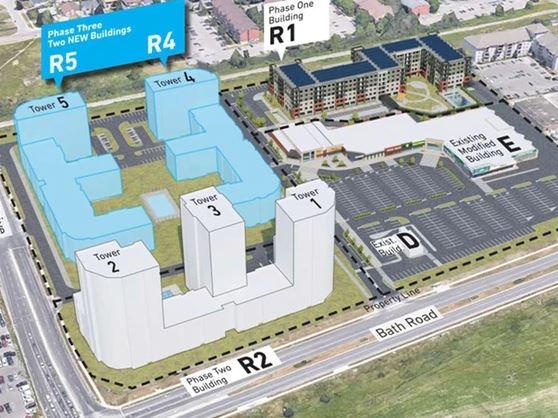 The City's received an exciting proposal to redevelop the property here at the Frontenac Mall into new housing and revitalized commercial space. The high level plan is to replace the indoor mall with new ground floor commercial and build a number of apartment buildings on the property including the northeast corridor behind the Food Basics and along the western side of the property along Centennial Drive. The development would occur in phases over a number of years but would add nearly 1700 new housing units. The development requires changes to zoning and to the City's Official Plan so there's lots of review work that still needs to be done by City staff. There will also be lots of opportunity for public input including a virtual open house and a public meeting in the coming months.
Right now there is an unprecedented need for more housing here in Kingston and as mayor it continues to be one of my top priorities. At this week's council meeting, a follow-up report on the Mayor's Taskforce on Housing confirmed that we're now seeing twice as much housing built per year compared to what we used to see. We're going to need to keep that pace going, and even accelerate further, if we're going to address affordability and meet the housing demands in our community. That means encouraging more secondary suites, infill development, transforming spaces like underutilized parking lots into new housing, and finding creative ways to mix residential and commercial spaces in ways that work for both businesses and residents.