Ranked Ballot – What Do You Think?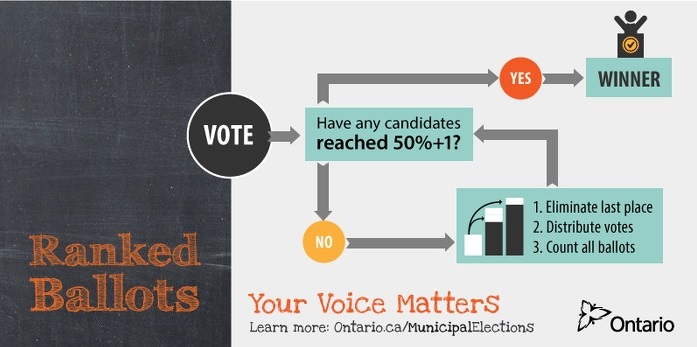 The Ontario government recently announced municipalities will have the option of using a ranked ballot for future municipal elections as part of the changes proposed to the Municipal Elections Act. If passed, Kingston would have the authority to use ranked ballot voting as early as the 2018 municipal election.
Changing how our voting system works is an important decision. We need to understand the pros and cons of moving to a ranked ballot, and most importantly, have discussion and debate across the community. So, to kick start that debate, I've included a poll to gather your initial thoughts on this potential change.
The poll is below, but first a quick overview of what this change means…
Right now we use the 'first past the post' system, which allows you to vote for one candidate on the ballot and the candidate with the most votes wins.
A ranked ballot system allows you to rank the candidates, from your most preferred to least preferred. To win, a candidate needs 50% +1 of the votes. If no candidate gets 50% +1 of votes, after the first count of the ballots, then the candidate with the least number of votes is eliminated and their votes are redistributed based on the second choice selected on those ballots. This process continues until one candidate wins by 50% +1 of the votes.
Here is what the ranked ballot process can look like (images provided by the Ontario Government, for more information visit www.mah.gov.on.ca/Page11118)
In this example apple would win in a 'first past the post' system with less than 50% of the votes and pear would win with 50% +1 in a ranked ballot system.
So what do you think?
[polldaddy poll=9385747]
Please note: this poll will close on Thursday April 21 and restrictions have been put in place to prevent repeat voting.