The Inaugural Mayor's Arts Awards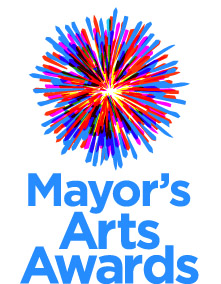 This week I was thrilled to present the first ever Mayor's Arts Awards and recognize the contributions of five tremendous artists in our community. This exciting new event has been a number of years in the making, as a way to celebrate Kingston's arts and culture scene and to raise the profile of great artistic talent in our community. There is no question that for a city of its size, Kingston punches way above its weight in both the quality and the diversity of our local arts and culture. This development in the arts hasn't happened by accident; it's been driven by a host of talented, entrepreneurial artists, musicians, producers and arts champions in our city. The Mayor's Arts Awards is one way that we can recognize their efforts in building the cultural vitality of our city.
Here are the five winners of this year's awards. Take a moment to watch the great videos profiling each of the artists who have contributed so much to Kingston's arts and culture.
Armand Garnet Ruffo – A Queen's University National Scholar in Indigenous Literature, Ruffo's award-winning works include plays, film and books of prose and poetry. His collection, The Thunderbird Poems (2015), was inspired by the art of Norval Morisseau.
https://www.youtube.com/watch?v=lKkaiLCrFlM
Su Sheedy – Known for her use of colour and texture in her paintings, Sheedy's work has been exhibited in Toronto, Montreal, Ottawa, Prince Edward County as well as Kingston. With projects like the Shoreline Shuffle, Sheedy has used art to help highlight the need to conserve and improve access to waterways.
https://www.youtube.com/watch?v=UzTOe7yhrJE
Matt Rogalsky – A founding member of The Gertrudes, composer and multi-media artist Rogalsky, is also the force behind The Tone Deaf Festival of Experimental sound and sits on the board of the Skeleton Park Arts Festival.
https://www.youtube.com/watch?v=hIT4-J4y9pY
Yessica Rivera Belsham – Drawing on her passion for her Mexican heritage, Yessica facilitates performance workshops, cultural and wellness events that feature painting, drawing, sculpture, jewelry design, sewing, drumming and singing.
https://www.youtube.com/watch?v=okk6Pb6Xxv0
David Kemp – The artistic director of the Frontenac Children's Teacher's Theatre Company and co-founder of Artists in Community Education program brought the arts into Kingston classrooms, inspiring generations of youth.
https://www.youtube.com/watch?v=0OlEpLvBntY