A New Temporary Home for the Marine Museum – Portsmouth Olympic Harbour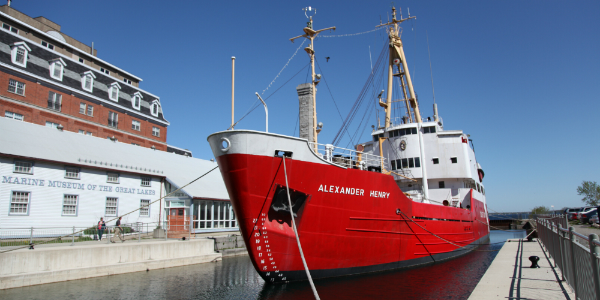 On June 29th City Council held a special meeting to discuss the future of the Marine Museum of the Great Lakes, as they face eviction from their current location on August 23rd. At this meeting City Council approved a plan that will see the Marine Museum move into vacant space at Portsmouth Olympic Harbour. Council also supported the movement of the museum's largest artifact, the retired coastguard ship Alexander Henry, from the dry dock on the waterfront and to the Picton Terminal over the next year.
The Marine Museum's move to Portsmouth Olympic Harbour provides temporary space to showcase their artifacts over the next two to four years, giving time for the museum to explore opportunities for a new permanent location. Many people have suggested to me that the Marine Museum could fit within the future vision for the Kingston Penitentiary and Portsmouth Olympic Harbour site, and that is something that can certainly be considered within the visioning exercise now underway.
The disposal of the Alexander Henry has proven to be by far the most difficult piece of the puzzle for the Marine Museum's future. But while the ship is housed at Picton Terminal over the next year, museum and city staff will be able to assess the potential to sink the ship in the coastal waters of Kingston in order to create a new artificial dive reef.
Using the Alexander Henry to create a new dive site would be an exciting tourism opportunity for the city. But it will also come with a large price tag, and so City Council indicated the city would cover half of the cost of disposing of the Alexander Henry, provided the Marine Museum is able to cover the other half through its own fundraising efforts.
I have consistently stated that the city should be there to help the Marine Museum as it transitions to a new chapter, however the city cannot cover all of these costs alone. My challenge to the supporters of the museum and the community as a whole is to embrace this opportunity. We can move forward together as we work to preserve and celebrate our rich history.