Updated: Come See Kingston's Student Innovators in Action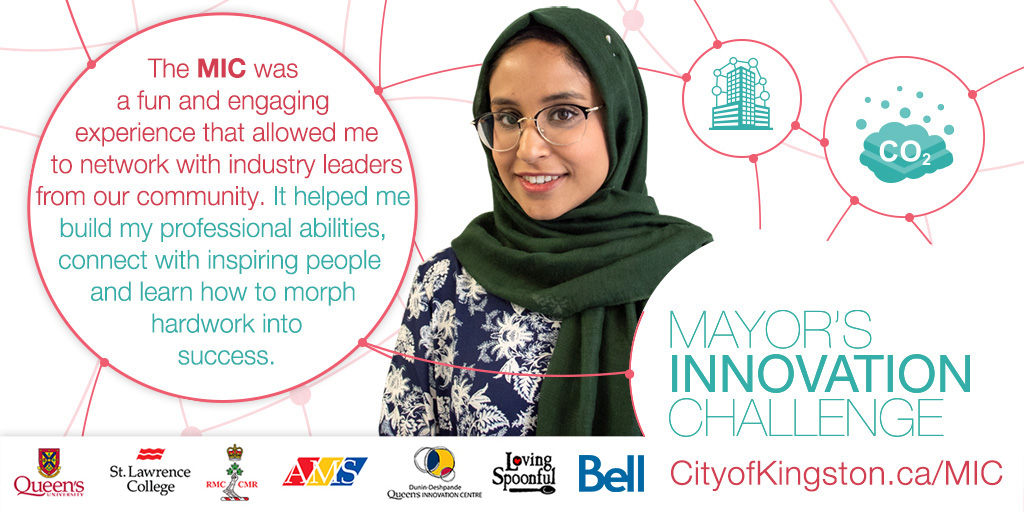 The 3rd annual Mayor's Innovation Challenge was held at City Hall late last week, and it was a very impressive field of competitors! Eight teams of post-secondary students put forward some amazing ideas on how to best address a challenge the City is currently facing. The competition featured a whole range of creative ideas – from innovative building practices, to enhancing transportation services to our food bank, to app ideas on energy use and real-time parking availability.
Rediscover Kingston was named the winner of the City of Kingston internship. Their project, an app that allows residents and visitors to point their smartphones at a landmark or historical building and view additional information, photos or even a visual reconstruction aims to capture Kingston's rich culture by using Augmented Reality to bridge the gap between our history and the future. Team members Julia McPolin and David Kubik will implement their project with a $10,000 budget and support from City staff.
Krown won the Queen's Innovation Centre Summer Initiative internship, sponsored by the Dunin-Deshpande Queen's Innovation Centre. Their project is a utilities application that works to reduce household electricity use, creates electricity goals based on a standard set amount of people within households, and gives weekly rewards (like coupons) for staying under this threshold. The winning team, consisting of members Jessie Xiong, Paul Yang and Albert Bui, will receive full stipends for the summer and up to $4,000 in seed capital to build a venture around their idea.
Kingston is a community with both the talent and the creativity to develop city altering and world changing ideas. The Mayor's Innovation Challenge is a unique opportunity to harness that talent to address municipal challenges while also providing students an opportunity to launch their careers. The Mayor's Innovation Challenge was made possible through partnership and collaboration with Bell Canada and the Dunin-Deshpande Queen's Innovation Centre. A special thanks to the Venture Club and Loving Spoonful for partnering on this year's challenge.