Investing in Our Waterfront
Our waterfront is one of our city's most important assets. That's why Council named it as one of our top strategic priorities!
Next week City Council will be presented with the Waterfront Master Plan, an ambitious plan to invest $60 million in Kingston's 280 kilometers of shoreline over the next 30 years. This plan was built by Kingstonians for Kingstonians, with recommendations reflecting two years of public consultation that included workshops, surveys, public meetings, online chats, stakeholder interviews, open houses and more.
The Waterfront Master Plan identifies 81 distinct water access and pathway improvement projects, from Collins Bay in the west end to Grass Creek Park in the east end and downtown waterfront destinations in between. Given the number of improvements identified and the magnitude of investment needed to realize these projects, staff has prioritized a list of projects for the next 10 years.
To give you a sense of the waterfront enhancements we are looking at, here are a few of the projects on the list for the next 10 years;
Confederation Basin Breakwater Pathway
Richardson Beach at Macdonald Memorial Park
Deadmans' Bay Pathway at Fort Henry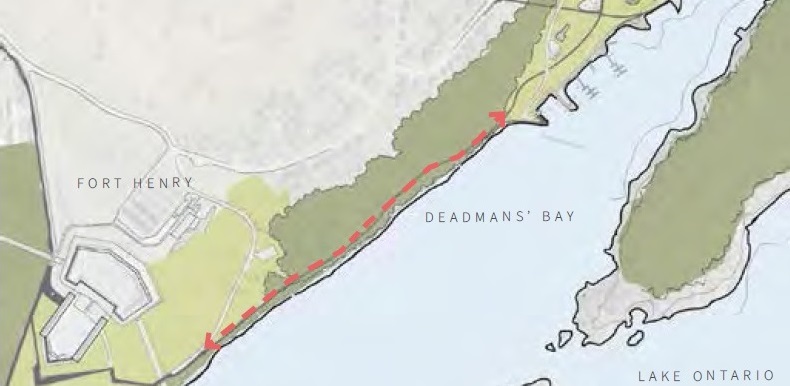 This plan provides a great vision and prioritization of improvement projects over the next 30 years. The city does not, however, own all the lands required to connect our waterfront so we need to be flexible and ready for other opportunities as they come up. The redevelopment of Kingston Penitentiary is a good example of waterfront not owned by the city but holds major revitalization potential that could be accomplished in partnership with the federal government.
The Waterfront Master Plan will enhance the quality of life for all Kingstonians as we get to work improving waterfront parks, paths and access to our beautiful shoreline; I cannot wait to get these improvement projects started!
For more information on the Waterfront Master Plan please visit the City of Kingston website, here. Be sure to check out the interactive waterfront story map here