Council Approves Kingston Pen/Harbour Vision: What Happens Next?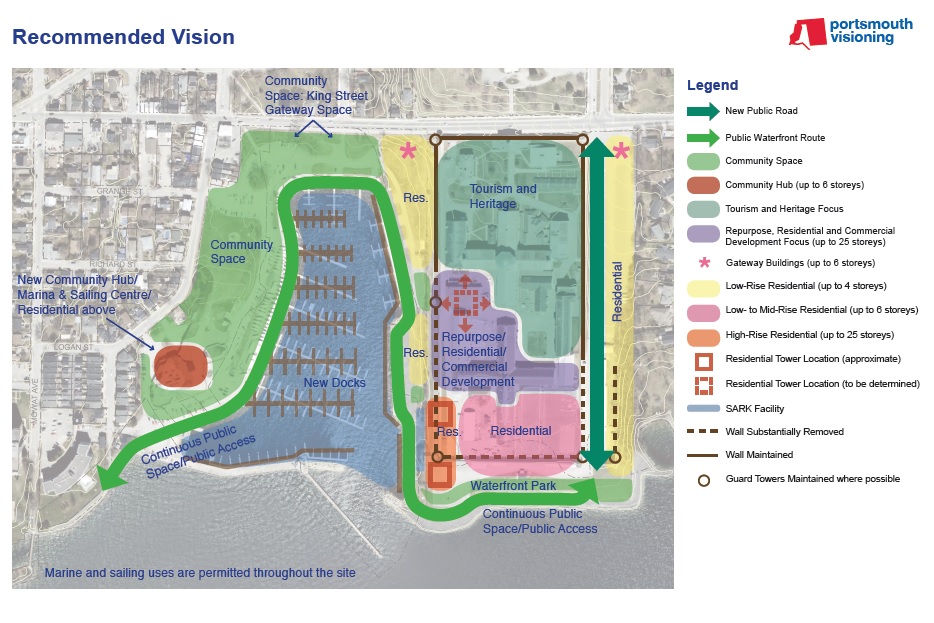 This week City Council approved a vision to guide the future development of Kingston Penitentiary and Portsmouth Olympic Harbour. As shown in the image above, the vision calls for a continuous shoreline pathway and full public access to the waterfront. On the city-owned harbour side, there will be lots of green space, views of the water and space for sailing competitions and other community events. On the federally-owned Kingston Pen side, the northern part of the site will be preserved in its current state (including the prison walls) to maintain the huge tourist draw that we have seen over the last two years. The southern half of the site will allow for new construction and the re-purposing of some existing buildings, bringing enormous potential for creative redevelopment.
With the vision approved, the work now begins to implement it. That will involve working out details such as the road network and parking, while the city also develops necessary bylaws to protect the heritage buildings on site. There will be a lot of technical planning in order to get the southern half of the KP site ready for redevelopment, as Canada Lands Corporation (CLC) takes the lead towards the eventual sale of the KP property. On the Portsmouth Olympic Harbour side, the city will move full speed ahead to plan a new marina building and a revitalized harbour.
I want to take a moment to thank city staff, CLC staff, the consulting team at the Planning Partnership, the members of the community working group and the many hundreds of Kingstonians that participated in this visioning process over the last 18 months. There's a lot of work ahead, but because of your efforts we now have a road map towards an exciting future for this signature piece of Kingston's waterfront.